>> Saturday, August 29, 2009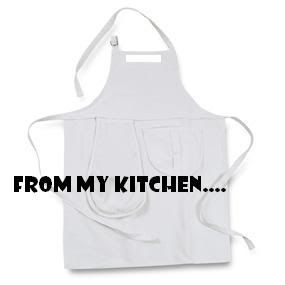 Hello everyone, I have started this food meme for me to share and hopefully for anyone and everyone to join. I call this "
FROM MY KITCHEN
" since the plan is for us to feature food made or prepared from our kitchen.. Whether you cooked it yourself or repackaged the meal to suit your foodie fans... Just tell us how you did it and that's it... This is open Saturdays as most of us have more time to cook during weekends... But you can start sharing your entries from 7:01 pm Fridays and ends 12:01 AM Tuesdays... Please copy the badge and link it to this post. Thanks and happy cooking---
For my entry this week, I wanna share with you
FIESTA HUMBA
.. since it is the most common specialty during Fiestas.. and we are celebrating our City Fiesta today, August 28, 2009--
Ingredients:
1 kilo LEAN & MEATY PORK (less fat)
garlic
onions
bayleaf
soysauce
chinese vinegar
sprite
subot
Procedure:
cut pork in bite size bits
crush garlic and cube onions
marinate meat in soysauce, a little Chinese vinegar and sprite or any lime soda with other spices of your choice
place everything (the marinade) in a claypot line with banana leaves for slow cooking (or you can use the slow cooker or Imarflex Crockpot)
simmer..
I hope you like it. That's the healthier way to cook the common HUMBA..
Thank you Kuting for participating.. It was a pleasure and an honor to know teh recipe for
---
---
Get your free Mcklinky here...